Gibraltar Boat Registration
Register your yacht in Gibraltar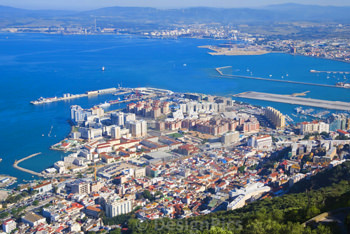 Gibraltar Yacht & Boat Registration
Gibraltar has long been a haven for luxury yachts – and the wealth that accompanies them. Low taxation, three prestigious marinas, and membership of the British Flag Registry, it's not difficult to see why many choose Gibraltar for their superyacht. With the iconic rock signalling its location at the opening of the Mediterranean, this idiosyncratic overseas territory is perfectly placed to register and berth a yacht.

The Gibraltar Yacht Registry is an internationally recognized, high quality registry providing an efficient and cost-effective service, it is an ideal choice for yacht owners who want the confidence of belonging to a British Register and flying the Red Ensign. As a member of the Red Ensign Group, there is flexibility of transfer to and/or from other Red Ensign ports in an efficient manner. The Registry offers very competitive rates to other British ports, including a 24hr turn-around service on the provision of official documents.

With over 800 active pleasure yachts on the register, all enjoy and benefit from a comprehensive maritime legislation based on English Common Law supported by a first rate legal and fiscal environment.

British Citizens, British Dependent Territories citizens, British Overseas citizens or EU or EEA nationals or companies registered within the EU or EEA may register a vessel in Gibraltar provided they have a majority interest in the vessel's ownership. If the owner(s) making up the majority interest (i.e. 33 shares) is/are not residents of Gibraltar, a Representative Person/Registered Agent must be appointed. A body corporate shall be treated as resident if it has a place of business in Gibraltar.

Who can register their yacht in Gibraltar?
As a British national or a citizen of the EU, you are entitled to own a British Flag vessel. Yachts can also be registered under the name of a limited company, as long as the company has been incorporated in a jurisdiction which is subject to UK laws and has a principal place of business in this location.
This ability makes it possible, and indeed sensible, for a Non-British national to make use of Gibraltar companies to own their vessels; the yacht will be registered in the name of the Gibraltar company, with the owner or nominee holding all the shares.
Any vessel registered in Gibraltar, whether in the name of an EU citizen or a Gibraltar-based company, will need an appointed Registered Agent who is entrusted with annual renewal of registration.
How to Register vessel in Gibraltar? Private or Corporate owned.
The most common way to register a vessel is under a Gibraltar corporate structure. This has several advantages such as confidentiality, as it can be arranged so that your name does not appear on any yacht or company documents. The onerous task of changing ownership details at the Yacht Registry can be overcome by simply transferring ownership of the company. Ownership though a structure can also overcome costly inheritance tax issues, provide inheritance tax benefits and provide asset protection.
Gibraltar Boat Registration Advantages:
From a legal perspective, registering a yacht in Gibraltar offers many advantages of security and reliability:
The yacht will fly the defaced British flag (Red Ensign) together with the international recognition, protection and prestige that comes with it.
The ability to seek assistance from any of the British embassies and consulates worldwide where the vessel may be situated.
Legal title of yacht ownership on registration or transfer of ownership is straightforward.
All vital details concerning the yacht is contained in the Register, and in the Certificate of British Registry ('Blue Book').
The Register is a public record, open to inspection by interested third parties, such as buyers, and/or potential lenders, offering security as to title.
Shareholders or company directors need not be Gibraltar residents
Gibraltar's VAT exemption
The yacht does not need to be surveyed annually
The registration process is generally fast and straightforward
The Register enables the owner to dispose of the yacht easily in a cost-effective and timely manner.
All legal mortgages are required to be registered, enabling interested parties to ascertain from this public record whether a yacht is free from encumbrances or registered liens.
Paperwork need to register in Gibraltar:
If the vessel to be registered in new, and has never been registered elsewhere previously, then we would need to be furnished with a Builder's Certificate which should carry the seal or rubber stamp of the Builder(s) and should indicate for whom the vessel was built.
If the vessel is not a new vessel and is currently registered in a Non-British Flag port, then we need to be furnished with a Bill of Sale which indicates the sale of the vessel to the Gibraltar company, and which needs to be authenticated by a Consul or Notary Public who can bear witness to the nationality of the Vendor.
If the vessel is currently sailing under the British Flag, then an ordinary Bill of Sale without any form of certification will suffice.
If the vessel has been purchased from a British subject (or corporation), and it has not be registered previously, then we would require the applicant to provide us with a sequence of Bills of Sales from the initial owner to date.
Every vessel seeking registration in Gibraltar (except for those meeting the criteria described in point f below) is required to produce a Measurement and Tonnage Survey Certificate which should be carried out by representatives of any of the following recognised syndicates:

Bureau Veritas
Lloyds of London
Germanischer Lloyd
American Bureau of Shipping
Norske Veritas
RINA
The Royal Yachting Association
Yacht Brokers Designers & Surveyors Association.

If a vessel seeking re-registration in Gibraltar can produce certified documentation pertaining to any EU port authority confirming that the vessel is up-to-date in its compliance with their registration requirements, and assuming that this documentation meets with the approval of the Gibraltar Yacht Registry, then the requirements to have a Measurement & Tonnage Survey carried out on the vessel can be simplified via the homologation of the information appearing on these documents to meet British standards.

How to setup a Gibraltar company
We can setup a Gibraltar company for you:

STEP 1
Please download and fill in our standard Company Application Form which is designed to provide you with a step-by-step approach to the setting-up of your Gibraltar company. If you were to print-off this form and work your way through its sections, you could then e-mail or fax through your completed version so that we can have at our fingertips all the necessary information that we would require in order to proceed with matters on your behalf.

Ultimately, we would require you to send us the original signed document together with all other paperwork listed below:

STEP 2
Please provide us with Certified True Copies of an original utility bill, bank statement, credit card statement, copy of driving licence or ID Card, or similar document (not older than 3 months), to indicate proof of address for every proposed Director, Shareholder, Beneficial Owner and/or Authorised Signatory of the Company.


N.B. In the case of Corporate Directors and/or Shareholders, we would expect to be furnished with:
A Certified True Copy of the Certificate of Incorporation
A Certified True Copy of the Memorandum and Articles of Association.
A Certificate of Incumbency listing the names and addresses of the Directors and Shareholders of the Company.
STEP 3
Please arrange to provide us with a reference from a banker, lawyer or an accountant to read as per the attached draft, for every proposed Beneficial Owner of the Company.
* N.B. The reference should ideally be addressed to:
Form-A-Co (Gibraltar) Limited
Suite 4, 2nd Floor, The West Wing,
Montarik House, 3 Bedlam Court,
Gibraltar
STEP 4
Please provide us with Certified True Copies of passports for every proposed Director, Shareholder, Beneficial Owner and/or Authorised Signatory of the Company.
STEP 5
Please provide us with a copy of your Curriculum Vitae.
STEP 6
A Measurement and Tonnage Survey to be conducted by any one of the following Classification Societies:
* Bureau Veritas
* Lloyds of London
* Germanischer Lloyd
* American Bureau of Shipping
* Det Norske Veritas
* RINA
* The YBDSA
N.B. In the case of new vessels and vessels seeking to transfer to the Gibraltar Registry from another EU Port, the information contained on the vessel's Builders Certificate and/or current Certificate of Registration may serve to allow the Gibraltar Yacht Registry to have such information re-calculated to conform to British Port standards. Please find attached a form listing the engine particulars that you would need to provide for the purposes of allowing this re-calculation to take place.
As you will note from the foregoing, the first step in securing the registration of a vessel in Gibraltar in the name of a Gibraltar company, should be the setting-up of the company itself which can then be named on the Builders Certificate or in the Bill of Sale as the Purchaser of the vessel.
The next step would be to obtain a Measurement and Tonnage Survey Certificate for the vessel from any one of the recognised Classification Societies named above, or have the existing data from a Builders Certificate or an EU Registry re-calculated to conform to British Flag standards. Once all of the conditions listed above have been met, then the registration of the vessel itself is a formality by comparison.
Cost Of Registering A Yacht In Gibraltar
We charge the following for registering your vessel in Gibraltar:
GBP £ 1150 – TO REGISTER VESSEL WITH PRIVATE OWNER
*does not include Measurement and Tonnage Survey
GBP £ 1850 – TO REGISTER AS GIBRALTAR COPORATE OWNER (WE SETUP AN GIBRALTAR LTD FOR YOU)