Langkawi Boat Registration
Register your yacht in the Langkawi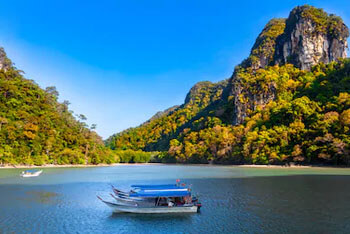 Langkawi, Malaysia, Yacht Registration
The Langkawi Registry offers one of the easiest and most convenient boat registrations in the world. It was setup in 2003 and is based in Telaga Harbour Park, Langkawi and is operated by the Director General of the Marine Department of Malaysia.

The major advantage of Langkawi is that it is the only registry in South East Asia to have adopted a real commercial yacht registry. As an open registry there are no restrictions or limits affecting the ownership of a yacht and is open to individuals, joint owners, corporations, and yachting entities.

You can therefor register your boat in Langkawi as a private owner or an entity (company) and use it for private, commercial or bareboat activities. The setup process is fast and the paperwork needed from you is very straight forward and most important; in most cases, we do not need a survey report from you which will save you a lot of time and expenses.

Registration of a vessel in Langkawi, Malaysia is almost identical to registering in the United Kingdom from which most of the existing Malaysian maritime laws and administrative practices are derived except you will usually not need the survey. The Directorate General of the Marine Department oversees the Langkawi International Yacht Registry.
Is the registration in Langkawi for Private, Commercial or Bareboat use?
The Langkawi registration is an open registration and therefor accepts private use, commercial or bareboat vessel use. The cost of registering your vessel are the same for all three categories.
Which nationalities can register a boat in Langkawi?
Any private person or company from any nationality can register their boat in Langkawi. This means that private owners as well as companies from around the world can register. If your vessel is currently owned by a for example a UK LTD or Delaware LLC, you can continue to use these and register in Langkawi.
How long does the registration take?
The registration of a vessel in Langkawi usually can be done in one week from the time we receive all documents from you.
We can setup a company for you for your boat ownership?
We can setup a United Kingdom LTD. or Delaware LLC for you and you will transfer the ownership of your vessel into this dormant new company that is owned by you. As the company is only used for owning a boat you will not need to pay any taxes or do any government filings. A bill of sale will have to be signed to transfer ownership of your yacht to your new UK LTD. or Delaware LLC. We will make this bill of sale for you or you can make your own. This whole process will be done within 48 hours!
Main advantages of Langkawi Yacht Registration:
Valid around the world
In most cases no yacht survey is needed
Your vessel never has to visit Langkawi or even Malaysia
Low setup cost
Fast setup time frame
This is an international yacht flag registration valid around the world
Your yacht can be registered as privately owned by a foreigner with any nationality
Your yacht can be owned by an entity in another country like a UK LTD. or a Delaware LLC. This is great for boat owners who want to avoid liability or want privacy
Langkawi has a good reputation and is white listed in IMO.
What Paperwork do we need?
Provide us with 3 name options for the boat ,with most preferred name as your first option
Clear colour scanned copy of owner's passport
Pictures of yacht (bow, stern and port or starboard side)
Bill of sale OR copy of Sales & Purchase agreement (with notary stamping)
Builder's certificate (FOR NEW BUILT YACHT ONLY)
Agent appointment letter (to authorize/appoint us as your agent – download here)
Existing or previous Registration Certificate
Deletion Certificate (de-registration certificate)
When you provide us with the above paperwork we will prepare all paperwork to file with the maritime authorities in Langkawi. You will just need to sign the documents we prepare and we will submit, follow-up and courier the registration documents to you. This whole process takes about 1 week.