Langkawi Boat Registration
Register your yacht in Langkawi
Langkawi, Malaysia, Yacht Registration
Langkawi Boat Registration – only $950 USD
Langkawi, Malaysia is fast becoming the vessel flag registration of choice for boat owners who are tired of dealing with the lengthy, expensive and complicated yacht registrations that are offered by their own countries. It does not matter in which country you are a resident or citizen, you can register in Langkawi within a few days and without spending extra cost and time on boat surveys.

Register in Langkawi as a private owner of your vessel or if you prefer you can register the ownership of the boat as a company. You do not need to setup a Malaysian company, just use a simple UK LTD or a Delaware LLC for example.

The Langkawi registry has also setup a real commercial yacht registry. It is an open registry that is open to individuals, joint owners, corporations, and yachting entities. It is for this reason that it is one of the fastest growing registries for commercial activities.

The paperwork needed to register in Langkawi is very simple. See our detailed list below and in most cases, we do not need a survey report. As soon as you send us the required documents and pictures we will start the registration process and this can be done in about 5 days.

The process of registering a boat in Langkawi is very similar to registering in the United Kingdom as most of the Malaysian maritime laws are copied from the UK.
Is the registration in Langkawi for Private, Commercial or Bareboat use?
The Langkawi registration is an open registration and therefor accepts private use, commercial or bareboat vessel use. The cost of registering your vessel are the same for all three categories.
Which nationalities can register a boat in Langkawi?
Any private person or company from any nationality can register their boat in Langkawi. This means that private owners as well as companies from around the world can register. If your vessel is currently owned by a for example a UK LTD or Delaware LLC, you can continue to use these and register in Langkawi.
How long does the registration take?
The registration of a vessel in Langkawi usually can be done in one week from the time we receive all documents from you.
How long is the Langkawi flag registration valid for?
The registration is valid for life! We take care of all paperwork for you and then you are done for the life of the boat. There will only be the annual tonnage fees to pay. We will take care of this for you annually and the total cost of tonnage fees and our representee fees are $195,- for boats up to 150 ton.
We can setup a company for you for your boat ownership?
We can setup a United Kingdom LTD. or Delaware LLC for you and you will transfer the ownership of your vessel into this dormant new company that is owned by you. As the company is only used for owning a boat you will not need to pay any taxes or do any government filings. A bill of sale will have to be signed to transfer ownership of your yacht to your new UK LTD. or Delaware LLC. We will make this bill of sale for you or you can make your own. This whole process will be done within 48 hours!
We recommend the UK LTD as it has low annual fees but we can setup a UK LTD or Delaware LLC for you in 2 days at a total cost of $300,-
Why is the company owned registration more expensive then the private owned registration? In order to comply with the MOU white list any company owned boat must have a due diligence performed. This means our local agent must take care of a lot of extra paperwork and do company searches. Main advantages of Langkawi Yacht Registration:

Valid around the world
In most cases no yacht survey is needed
Your vessel never has to visit Langkawi or even Malaysia
Low setup cost
Fast setup time frame
This is an international yacht flag registration valid around the world
Your yacht can be registered as privately owned by a foreigner with any nationality
Your yacht can be owned by an entity in another country like a UK LTD. or a Delaware LLC. This is great for boat owners who want to avoid liability or want privacy
Langkawi has a good reputation and is white listed in IMO.

What Paperwork do we need?

Provide us with 3 name options for the boat ,with most preferred name as your first option
Clear colour scanned copy of owner's passport
Pictures of yacht (bow, stern and port or starboard side)
Bill of sale OR copy of Sales & Purchase agreement (with notary stamping)
Builder's certificate (FOR NEW BUILT YACHT ONLY)
Agent appointment letter (to authorize/appoint us as your agent – download here)
Existing or previous Registration Certificate
Deletion Certificate (de-registration certificate)
A copy of the Insurance Policy
A picture of the carving marking is needed to get the original documents
When you provide us with the above paperwork we will prepare all paperwork to file with the maritime authorities in Langkawi. You will just need to sign the documents we prepare and we will submit, follow-up and courier the registration documents to you. This whole process takes about 1 week.
What does the Langkawi yacht registration look like?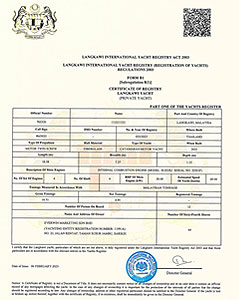 How much does it cost to register a yacht in Langkawi? = from $950,-
We charge a flat service fee of $575,- USD for handling your private yacht registration in Langkawi. This fee includes everything and there are no hidden cost afterwards. You will also need to pay the actual maritime fees imposed by the government. This government fee is only a total of $375,- USD, if the vessel is under 150 ton. So, the total registration fee is only $950,-
If you register a corporate owned vessel our fee is $1175 USD as we have to do all KYC (know your client) paperwork with you in addition to the normal paperwork. The government fee is the same at $375,- USD for a total of $1550,- USD.
What is the exact Langkawi Government Fee?
These government fees are (for boats up to 150 gross tons):
1/ Government registration fee RM 1,140.00 (=USD $280)
2/ Government Tonnage fee RM 380.00 (=USD $95)
Total Government Fees. RM 1,520.00 (=USD $375)
How much is the annual renewal fee in Langkawi? = from $95,-
If your vessel is under 150 tons, the annual renewal fee is only $95,- USD as you only pay for the annual tonnage fees. Your registration is valid for life!
How much does it cost to register a yacht over 150 ton in Langkawi?
You have a large vessel, it is still very inexpensive to register in Langkawi. The first year fee exists of the government registration fee, the annual tonnage fee and our service fee of $550,- or $1175,-. From the second year on it's just the tonnage fee.
1. Government registration fees for large vessels:
Over 150 and up to 400 gross tons RM 1,900.00 (=USD $467)
Over 400 and up to 1500 gross tons RM 2,660.00 (=USD $654)
Over 1500 gross tons RM 3,800.00 (=USD $934)
2. Annual tonnage fees for large vessels:
Minimum Fee RM 380.00 (=USD $94)
Per gross tons for the first 1000 gross tons RM 1.50 (=USD $0.37)
Each additional gross tons above 1000 gross tons RM 0.50 (=USD $0.12)