British Virgin Islands Boat Registration
Boat Registration in the British Virgen Islands (BVI)
Boat Registration in the British Virgen Islands (BVI)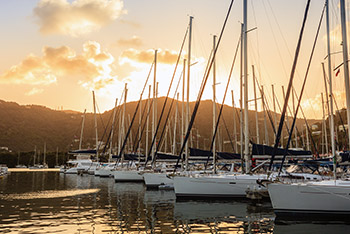 The British Virgen Island registration is recognized worldwide, the BVI is a member of the Red Ensign Group of British Registrations, which means any boat registered in the BVI is a British Ship and entitled to fly the Red Ensign Flag and that gives your ship protection by Royal Navy and support by the British Diplomatic/Consular.
BVI is a British Port of Registry and all ships registered here are designated British ships and fly the BVI Marine Ensign (British Red Ensign with the BVI crest). The BVI is amongst a select group of Caribbean destinations that enjoy the benefits of being part of the United Kingdom s Red Ensign Group of Registries and are now recognised worldwide as having an international Category 1 ship registry operating to the highest standards of a British Port of Registry.
We are a specialized company in taking care of boat registrations for our clientele around the world. We offer registrations in many different jurisdictions including the British Virgin Islands (BVI). As you can read below, we can register a boat owner from the UK, EU and EEA as a private owner or we can setup a BVI company for you that will own the vessel (and you own the BVI company). Setting up this BVI company can be done at a fixed fee of $1625 USD and can be finalized in just a couple of days. The total BVI company renewal fee including state taxes is 1050 USD after the first year. And the boat renewal fee for boats up to 24 meters is 550 USD all inclusive and 750 USD above 24 meters, all inclusive.
Who can register with the BVI registration?
BVI Vessel registrations are available to citizens of and companies registered in:
The BVI
The United Kingdom and its Crown dependencies and overseas territories
A member of the European Union (EC) or European Economic Area (EEA)
The Caribbean Community and the Organization of Eastern Caribbean States.
Should I register as private owner or company ownership?
Often clients opt to set up an incorporated BVI company for the sole purpose of holding a ship, the benefits of vessel being hold by a BVI company are:
Protection of asset from confiscation orders from foreign governments
No disclosure or minimum capital requirements
Ease of maintaining and operating the BVI company
Confidentiality and anonymity for the shareholders and directors of the BVI company
Which vessels can be registered in the BVI
Cargo ships of unlimited tonnage
Yachts of up to 3000 gross ton
Vessel previously registered under category 2
Pleasure crafts and yachts up to 400 gross which is about maximum 45 meters
Cargo and commercial craft of up to 150 gross which is about 24 meters in length.
Which documents are needed to register a vessel in the BVI:
Original bill of sale
Original builders certificate OR CE certificate
Certificate of Survey and Tonnage Measurement (CAN BE DONE BY ANY SURVEYOR ANYWHERE, AS LONG AS HE IS APPROVED BY ONE OF THE 7 SURVEY INSTITUTES.
Deletion of previous registration (if applicable)
Application to register (we take care of this – you need to sign)
Declaration of Eligibility (we take care of this – you need to sign)
Certificate of Incorporation (if registering as company)
Deletion of previous registration (if applicable)
Closed Transcript and an extract of register (only if the vessel is coming off a Red Ensign Register)
All documents need to be notarized and also if documents are not in English, they need to translated and notarized.
How much does it cost to renew my BVI boat Registration?
Depending if you have registered as a person, a UK Ltd or a BVI company. The renewal fees will be the following:
Boat renewal up to 24 meters: 100 USD state renewal fee + 250 USD representative fee + 200 Service fee = 550 USD
Boat renewal over 24 meters: 300 USD state renewal fee + 250 USD representative fee + 200 Service fee = 750 USD
Additionally if you have registered a BVI company, the yearly company renewal fee is as follows:
BVI annual company renewal fee: 1050 USD per year